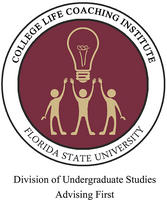 Undergraduate Studies and Advising First is currently planning the 2018 FSU College Life Coaching Institute at Florida State University in Tallahassee, FL. At Florida State University, we value critical thinking, and strive to be on the cutting edge of higher education innovation. That is why we are offering an institute that will be appealing to both the student affairs professional looking to gain new skills to enhance student meetings, as well as those holding leadership positions looking for ways to innovate and motivate their departments.
Please feel free to explore our website to get a better understanding of the Coaching Institute and contact us if you have any questions.
Contact
About 
Save the Date! The 2018 College Life Coaching Institute will be held from June 6-8 in Tallahassee, Florida.
Registration opens Monday, January 29th, 2018.
To sign up for the Listserv and receive updates, please email us at: ugs-collegelifecoaching@fsu.edu
What is college life coaching?
At Florida State University, College Life Coaching is the process in which a trained professional collaborates with a student to facilitate growth in their personal and professional goals, aid engagement in their campus community and support various topics as prioritized by the individual student.
Why coaching?
Every year, thousands of students transition from high school to college with the expectation of having a satisfying and memorable collegiate experience, obtaining a degree upon completion of their major requirements, and having confidence in their next steps after college. This transition is dynamic and unique for each student. New levels of independence can be overwhelming for some and a welcomed challenge for others. For many, this is their first exposure to being an adult and living away from home.
College is also understood by many to be the first step in developing a career and life path. Despite the wealth of opportunities for independence, intrapersonal growth and career planning found in college, some students do not have a positive experience. Some withdraw from the institution or are dismissed due to both academic and non-academic reasons. These reasons can include the loss of financial aid, difficulty engaging in the university's culture, homesickness, and many other factors. Universities work tirelessly to prevent these students from leaving, but finding ways to support various students with different situations remains a challenge.
Since 2008, the Florida State University Advising First Center for College Life Coaching has worked with students in order to define their transition to the collegiate setting, engage in their professional development path and overcome any obstacles that may lead to their withdrawal or dismissal. The program, comprised of a seventeen member team, consistently works with roughly 1,700 students over the course of the academic year to create and implement individual plans linked to academic and personal success. Coaches aim to empower growth and awareness in students so that students can adjust to the college setting while establishing their independence, professional development and heightened academic expectations. Coaching has proven to increase not only student satisfaction, but since its inception it has improved FSU's first-year retention rate with the populations receiving coaching services.
Who can benefit from this institute?
The FSU College Life Coaching Institute (FSUCLCI) is comprised of two tracks, Garnet and Gold, for those interested in making a positive impact at their institution:
The Garnet Track is built specifically for academic advisors and other student affairs professionals. This track equips attendees with College Life Coaching skills and a framework to transfer each of these skills into meetings with students. Attendees can expect the following:
interactive role play
scenario-based instruction to navigate complex situations and diverse populations
an authentic repertoire of useful language to move conversations forward
advanced tutorials on how to build and strengthen connections with students
The Gold Track is built with leadership in mind, and is designed for program managers, directors, and other university administrators. This track presents the skills that make up the coaching program. It also provides each attendee with action plans for strengthening a previously established coaching program, or creating a coaching program to meet the various longitudinal goals of their institution, such as:
increasing retention in vulnerable populations
providing a space where students can find support
creating a greater sense of campus community
hiring, supporting and developing campus professionals
Concurrent workshops will be offered for both tracks.
How does the FSUCLCI differ from other conferences and institutes?
The developers of this curriculum are aware that, just like students, everyone has different needs and goals within their profession and their school's mission. To ensure that all needs are met, the institute contains the following:
more discussions, as opposed to lectures, in order to share and learn with others in the field
opportunities for participants to ask questions and learn about emerging trends, obstacles, and the future of coaching in higher education
Skills to build individualized approaches
assistance in the development of a plan to implement coaching skills or program structure
support from current practitioners and leadership to attain realistic movement beyond the institute
Contact 
If you have any questions, feel free to contact us over phone or via e-mail: